Would your potential customers be more likely to take next steps if presented with a series of strong recommendations from others?
For many entrepreneurs who track the success of visits to their website, the answer would be Yes.
The positive effect of testimonials from previous customers is clear. The aim here is to show you how to get more testimonials, to then be able to take the best of those to display on your website or social channels.
You want your best customers to give great recommendations, to make the quality of your product or service clear to newcomers. So let's make it easy for them.
Your Objective
Requesting a review can be straight-forward. You want this process to be consistent, and easy for you and your customers.
You can do this by sending the customer an email with a link to a pre-made, well-presented and easy-to-use form.
Step 1: A Review Request Form
Creating a review request form is a key step to ensuring your make life easy for your customers. Clicking a rating and filling in some fields saves their time.
The form needs to have some key fields. A profile photo adds weight and authenticity to the review. An email is essential. For example, if you are a B2B business, the reviewer's company and job position could add important authenticity to the recommendations.
💡 TIP: The comment field should be limited to a maximum amount of characters, to encourage your customers to be concise and ensure the review length is more or less consistent.
For Endorsal customers, most of the work is done. Creating a review request form starts with the click of a button. You customise it to match your brand, choose the data you'd like to collect from customers and you're done!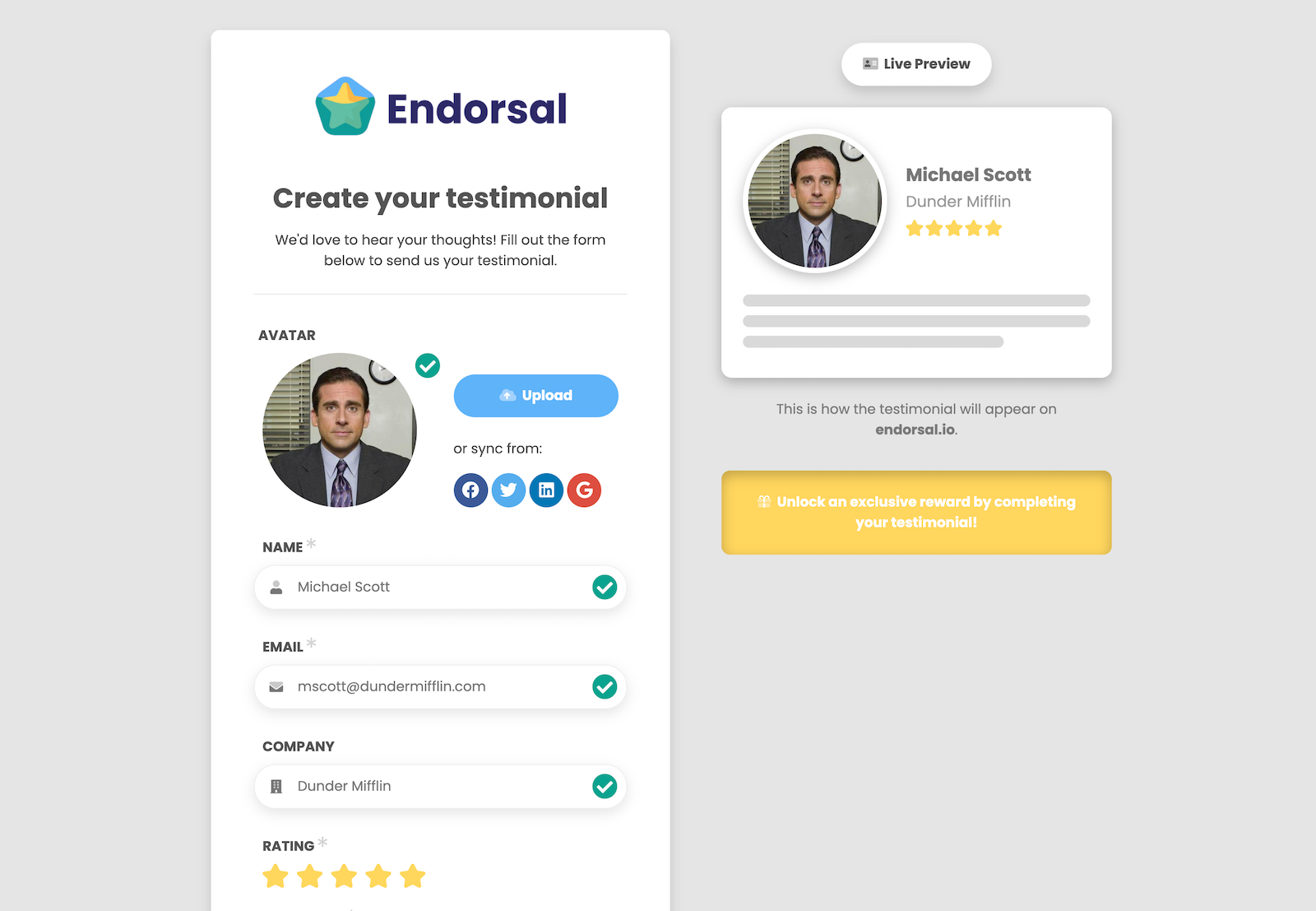 Step 2: The Email
The email itself can be light. You do not need to be begging for a recommendation. By asking, you are showing the customer you care, and that their opinion of you matters. Good business, right?
💡 TIP: Don't be scared to ask for recommendations. Your customers may like you more for it.
Use the email to open a dialogue in case of any issues. This could also be the chance to fix any problem that might otherwise go unresolved (and mean a lost customer).
Step 3: Automating Review Requests
You are probably busy, which means automation can be your friend. You may already be familiar with email marketing and sending campaigns. The same can be done with review requests.
💡 TIP: Each customer is not only a source of further future income but also a resource for your best recommendations.
Automating the sending of your emails and review request form link to each new customer can save you time, and ensure no customer is missed.
If you need a quick and intuitive way to set up review request automation, for both by email and SMS, Endorsal has built a feature called AutoRequests. It is an all-in-one system that does not rely on any 3rd party email marketing software.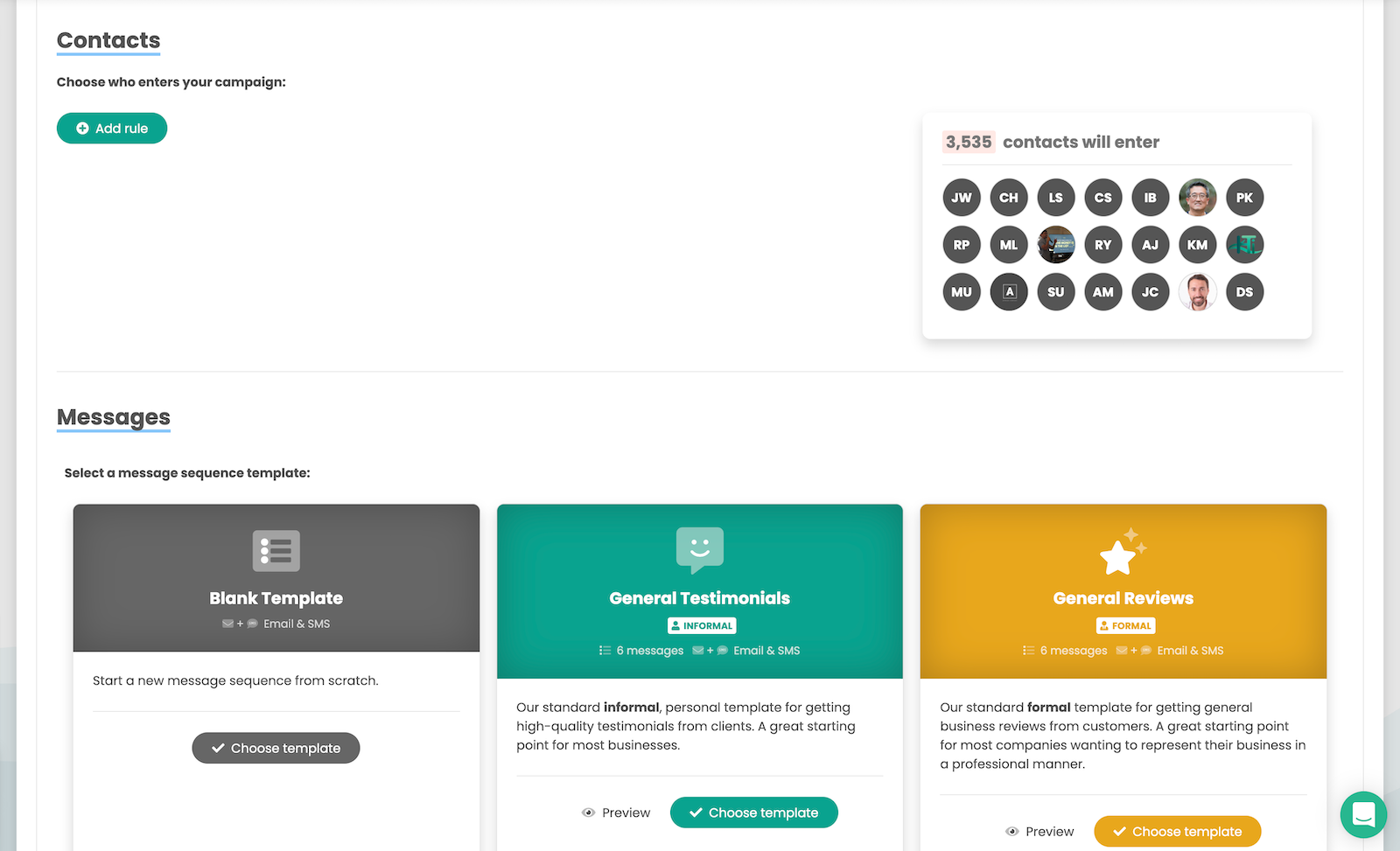 Step 4: Setting Up Campaigns
An effective review request campaign, that encourages our customers to engage, may need to have follow-up emails that act as a reminder.
A campaign should contain a series of emails, with a gap between each one to give your customers time to respond.
I'm sure we have all missed or put aside emails that we do care about due to the sheer amount we receive, to then be reminded several days later with a follow-up. When approached with care, it is a very productive way of communicating.
💡 TIP: Do ensure that once a customer has clicked on a link in your email that he or she does not receive further emails in that campaign.
Endorsal's AutoRequest feature takes the best practice for campaigns, provides a range of email & SMS templates that are proven to convert and enables customers to run the complete testimonial collection process from within one platform.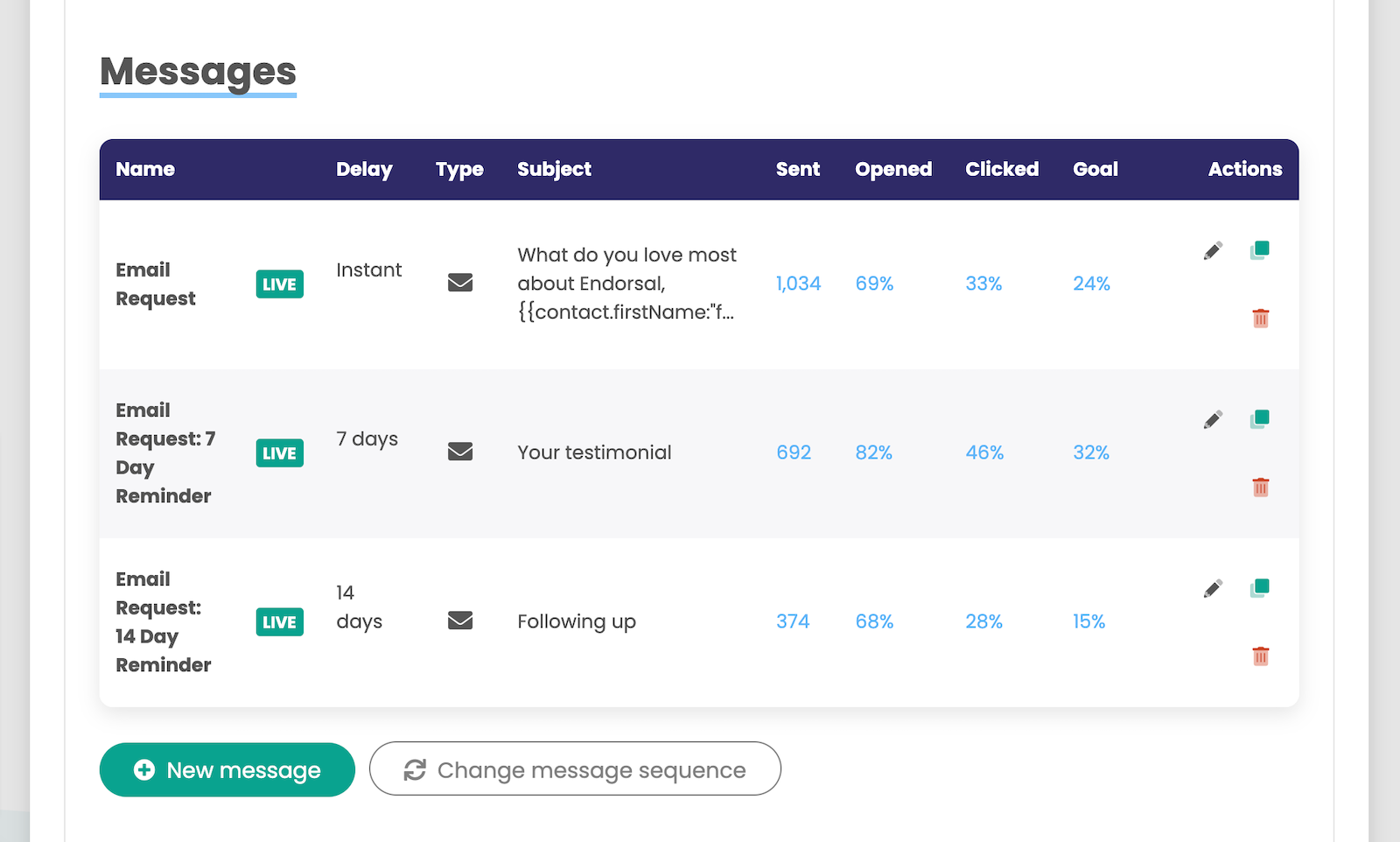 Step 5: Techniques to Get More
If you have implemented steps 1-4, you now have a workflow in place that gets endorsements from new and existing customers, with automation that leaves you to focus on your business.
Sometimes customers need an incentive. Or perhaps you want to ensure a customer is happy before requesting a testimonial.
Offering your customers something of value in return for a testimonial can show that you value their time. This could be a discount code on a future order, which also encourages a further purchase.
💡 TIP: Choose your incentives carefully. Consider what will provide a small benefit to customers while not overdoing it.
Endorsal calls this feature Incentivised Requests. It is included as part of the EndoForm review request form.

To check whether a customer is happy with the product or service you have provided, you can flip the testimonial request process.
Set minimum star rating that tells you if a customer is satisfied, and ask for the rating first. If the rating is not met, request their feedback instead of a review. This might help you fix a problem with a customer that prevents them from going to the competition and ethically turn their negative review into a positive one.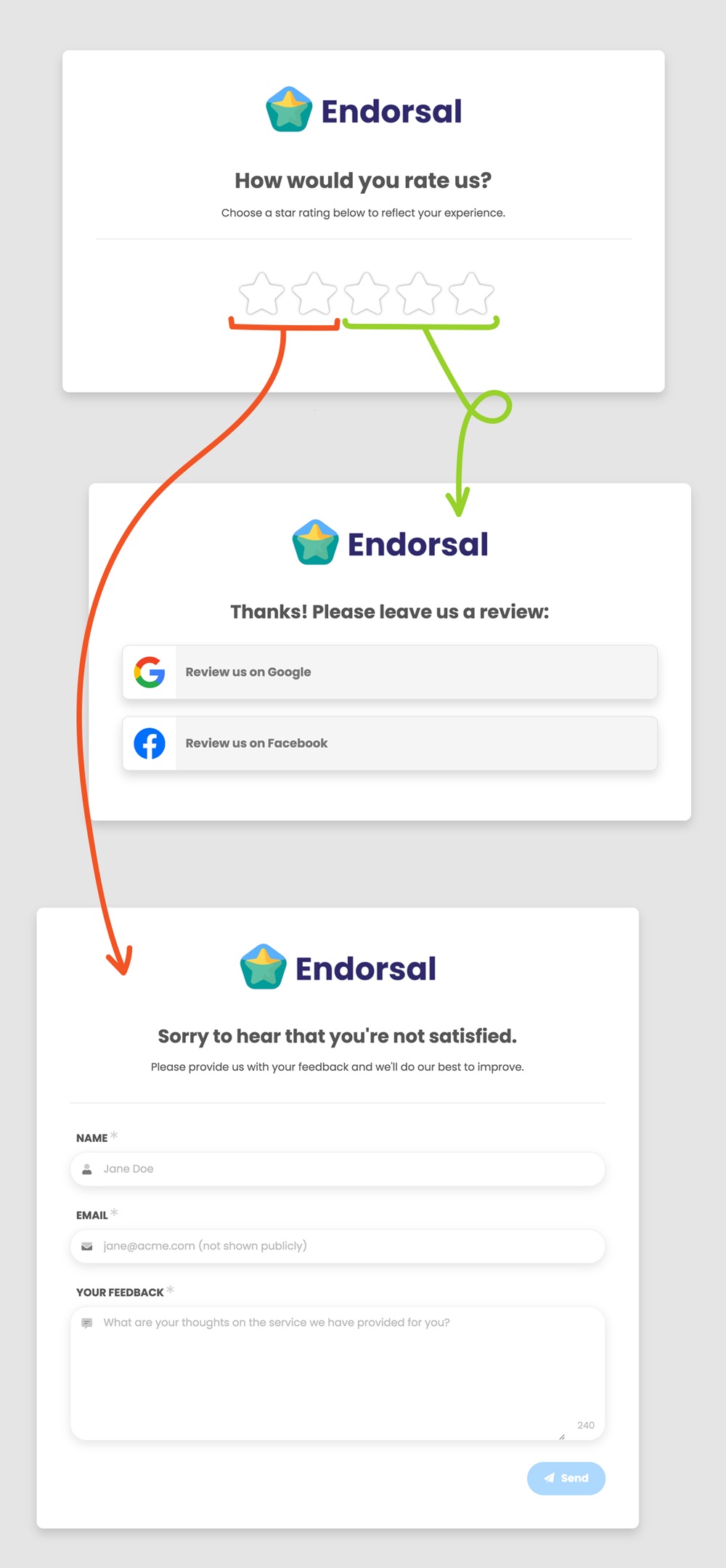 Endorsal offers two types of review request forms, to cover these two scenarios. One starts by asking for a testimonial, the other for a star rating first. It gives you the chance to choose what is best for your customers.
Summary
However you choose to approach review requests from your valued customers, the above steps should point you in the right direction.
So now the next and final step is one simple thing: do it.
Use this guide to go out and grow your recommendations. Your business will benefit from it, and your customers will admire your commitment to caring about what they have to say.
---
Collecting high-quality testimonials is
important to every business

.

But it's always been a long, painful game of back-and-forth.

Endorsal streamlines the whole process by fully automating it, saving your business time and money.

Increase conversions, build customer loyalty and strengthen your brand.
Over 5,000 companies trust Endorsal to boost their social proof. Try us out for free and
in less than 10 minutes

, you'll see why ⤵︎
Review platforms we support:
Embed reviews and testimonials on:
---